Who is behind that German B2B sales consultancy?

Being a Master of Business Administration and a Master of Business and Engineering, I held several managerial positions prior to my self-employment over some 16 years: in international sales, key account management and marketing.
For the German market, Europe-wide, globally. In small sized businesses, medium-sized companies and multinational corporations. I have strong analytical skills, a very good number sense and keen perception. This leads to short periods of adjustment, when facing new challenges.
My experience in international business to business sales (B2B) stems from working in the electronics, medical, automotive and metalworking industry, as well as wholesale trade. Selling these products always needed a lot of technical explanations, where my broad education came in handy. This led to a working wealth of practical experiences. Profit from industry spanning best practices.
International sales experience - intercultural competence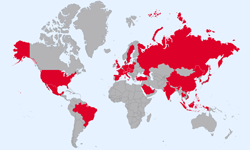 Extensive sales related travels throughout Europe, North America and especially Asia - e.g. China, South Korea and Japan - helped me to get a firm grasp on differences in how business is being done in different parts of the world. At the same time, it helped me to understand the universal basis of worldwide trade. Intercultural competence not as a slogan, but actively practiced. You can directly benefit from insights and experiences acquired on international business trips to more than 30 countries.
Close cross-functional cooperation led to a broad base of knowledge regarding internal procedures. Often it is the interfaces between departments, where most improvement potential can be found. That is why I sometimes call myself a "generalistic sales specialist". Thus, I am offering international sales consulting services that are always focussing on the company as a whole.
What else?
My hobbies include sports of any kind, rock music and reading of classic literature. Thus, I guess it is quite conclusive that I am supporting the soccer team of FC St. Pauli Hamburg for more than a quarter of a century - which possibly is a good hint to my ability to suffer (we routinely get relegated to the second or third division) and my persistence 😉
I am happy to serve you as a sales consulting agent, an aide to enter the German or Asian market or by optimizing your homepage. Please get in contact with my office in Hamburg, Germany.