Website Optimization - how customers will find you

Probably you came to my website via Google or Bing. Then you have already experienced applied search engine optimization or website optimization. The two biggest search engines are channeling the majority of traffic on the Internet. Or, to put it in different terms:
If you cannot be found from these search engines,
you are virtually not existent on the Internet.
Thus it is of utmost importance for the success of your online marketing activities that Google and Bing know, what is to be found on your website. This is where so called Search Engine Optimization (SEO) comes into play. Among other things, meaningful use of keywords, headlines and descriptions (onpage) as well as authoritative links (offpage) help the independently working search programs (so called crawlers, robots or spiders) to get the right input.
This helps them to better judge, what the relevant content of your webpages is. It will help to determine the authority of your website for certain topics. Consequently, the most important terms will rank significantly higher in so called organic or natural search results. And this is a decisive factor for your digital success, as the great majority of users only take the first page of search results into consideration. Therefore it is essential that you will make it into the Top 10 for your most important keywords on Google and Bing. And SEO is your tool to reach this goal.
Website Optimization vs. Search Engine Optimization/SEO
Website Optimization takes it even further. It does not stop at formal bettering of the source code, but focusses on the fact that webpages ultimately are made for humans, not crawlers. In this more general respect it is the goal to provide users with an informative, attractive and functional website. It should be instructive and supporting your company's goals, while at the same time sticking to the needs of search engines.
My holistic approach is based on a strong sales focus, meaning transforming your website into an excellent international customer acquisition tool. Everything is centered around the needs of your clients. Thus, such factors as the industry you are in, your customer structure, your competitive situation, or more generally spoken, your market environment is part of the process. After optimization your website will perfectly suit Internet users and search engines alike. Because of this it will open up new business opportunities through permanently increasing, qualified website traffic ⇒ SEO for your sales success.
Let your business be found online
and turn your visitors into customers!
Optimizing your existing website
Everyone, who owns a website, knows what efforts in time, money and thoughts went into its creation. Indeed it is advantageous to incorporate the ideas of website optimization already in the construction phase of your new homepage. But substantial improvements to almost any website can be reached with reasonable onpage search optimization efforts.
As online competition is constantly increasing and algorithms from search engines are becoming more sophisticated (e.g. through Google's regular Broad Core Algorithm updates or the Core Web Vitals), continuous SEO activities are best rewarded. Beautifully, relevant progress - e.g. increased conversions - can be measured through access statistics of your website provider or web analytics services like Google Analytics.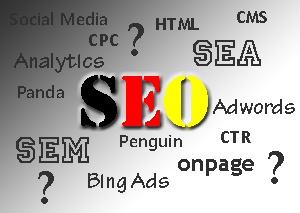 Traceability and impact can further be improved by using paid advertisements on the result pages of search engines. Learn more about so called Search Engine Advertising (SEA) and how it will instantly help you to guide more potential customers to your homepage. It would be my pleasure to help you reaching the full potential of your website. All strictly ethical in the form of good "White Hat SEO". Following Google's informal, but famous initial corporate slogan: Don't be evil.
If you are looking for an experienced, sales focused freelancer to support your German online marketing activities (SEO and/or SEA), please call or shoot a mail to the B2B sales consulting agency from Hamburg, Germany.
✆ +49 40 235 130 816
✉ info(at)vertriebsberatung-sandtmann.de
Call now