Search Engine Advertising (SEA): paid search via Google & Co.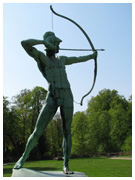 While Search Engine Optimization (SEO) is striving to rank close to the top for given keywords in the so called "organic" or "natural search", Search Engine Advertising (SEA) is concerned with paid search.
The big search engines - above all Google and Bing - offer the possibility to publish paid online advertisements. These are displayed above or below the organic search results, usually in a slightly different layout. Google Ads and Microsoft Advertising (through Bing) are your best chances to secure instantly and precisely a position on the first search engine result page for relevant keywords. Bringing a constant stream of potential customers to your website.
Online advertisers will have their - within certain limits - self designed advertisements displayed for their targeted keywords. Usually payments are only affected, when someone clicks on the ad (pay per click model - PPC). Related costs are mainly dependent on the competitive situation for the keyword, the quality of ads and landing page and are controlled through maximum bids.
Search Engine Advertising through Google Ads
Google is the leading search engine worldwide. Its market share in Germany, for example, easily exceeds 90%. Thus Google Ads (previously known as AdWords) is the first choice, when it comes to paid search on the Internet.
In the Google Ads account the customer is setting a maximum daily budget. Relevant keywords need to be chosen, best with relatively low competitiveness, while still having an interesting monthly search volume. For these keywords catchy advertisements need to be created. In view of the limited space, which is available for text and headline, not an undemanding challenge.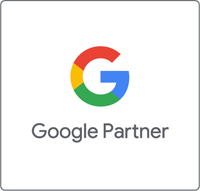 Ads will be shown by Google, if a search is being made for the respective keyword and the balance of the daily budget is not yet spent. Restrictions can be applied: time, language, device and/or geographical location. This enables you to reach a target group very effectively, e.g. for a local only service. In an automatic real time auction the advertisers will be ranked: currently up to 7 ads will be displayed on the first page of Google's search results.
Actual Cost Per Click (CPC) not only depend on the "fit" between keyword and ad copy, but also on the quality of the landing page. Thus, a high correlation between page content and search term is essential. Additionally the past performance of the advertisement is highly relevant. If a relatively big share of searchers had clicked on your ad in the past, the CPC tends to decrease. This click behavior is measured by the so called Click Through Rate (CTR).
With the continuously rising usage of smart phones, digital advertising on these devices becomes ever more attractive. Clicks on such ads can even help potential customers to directly establish a phone call. Thus, especially local businesses and services can immediately profit from highly relevant searches in their neighborhood.
Support in design and maintenance of your Google Ads campaigns
To maintain a successful campaign, which constantly brings new qualified prospects and customers to your website, continuous effort is needed. It is not enough to set it up once and forget about it afterwards. Rather, a regular meaningful tweaking based on performance data - e.g. through testing of alternative ads, bid adjustments, negative keywords or audience targeting - is mandatory for its success.
Ultimately you do not want to increase the sheer number of visitors of your website only. It should be those visitors, who have already expressed their general interest in your offerings by having performed a dedicated search. Opening up new business opportunities through improved visibility.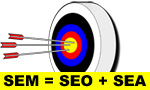 Search Engine Advertising is an excellent opportunity to drive greater numbers of relevant visitors to your homepage. It can be used alternatively or - even better - complementary to Search Engine Optimization. Both activities are usually summarized under Search Engine Marketing (SEM). They are promoting your website content and are thus the key elements to any successful online marketing strategy.
German PPC consultant for SMBs
The Sales Consulting Agency from Hamburg is eagerly looking forward to supporting you as your German freelancer in design and maintenance of your Google Ads or Microsoft Advertising campaigns. Being a certified "Google AdWords Specialist" and "Google AdWords Expert", I will help to make your campaigns a sales success on the Internet. Please follow the link to my contact details, send a mail to sea(at)vertriebsberatung-sandtmann.de, or simply call under ☎ +49 40 235 130 816.
Call now